Version 1 - Website with Flash Music Player:
• Social media integration & support for viral marketing.
• Integrated Google event calendar with "copy to my calendar" feature & built in Google invitations, reminders & updates.
• AJAX tabbed interface for instant changes without that annoying wait for page refreshes. Javascript, CSS.
• iFrame scrolling news area.
• Custom contact form with spam control captcha & contact records.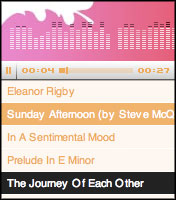 The Flash music player includes changing custom graphics, an animated sound graph, a colorful piano key look to music selections, and conveniently loops through the whole playlist.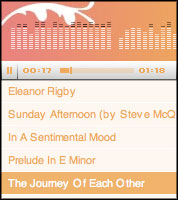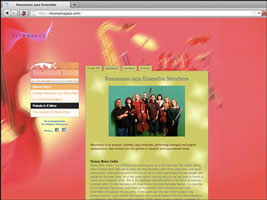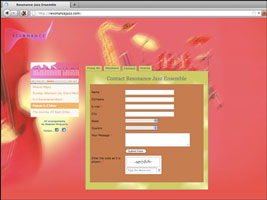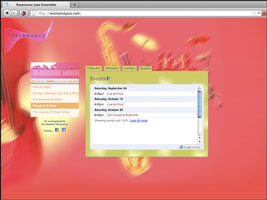 resonancejazz.com
Website
- Music Promotion
2 Websites in one.
One with a Flash music player & another with a non-Flash music player (for iPad & iPhone users, and other mobile devices). Visitors are automatically sent to the appropriate version.
Version 2 - Website with non-Flash Music Player:
Same great features as the web browser website... plus...
• iOS (iPhone & iPad) compatible (no Flash).
• Music player - jQuery with RSS friendly XML loaded playlist.