Paintings: 1 . 2 . 3 . 4 . 5
Photography: 1

Shown by appt
contact/subscribe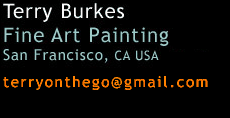 I mostly do either culturally observant photography, or metaphorical landscape paintings in watercolor or encaustics (beeswax, resin, pigment).


My current work contemplates culture, nature, nurture, beauty, quirky juxtapositions., and the power of shared imagination and history.

SE Asian Series - Inspired by my 2004 travels in SE Asia - Despite, or because of, the tumult of history, much of SE Asia is graced with the beauty of some combination of nature, Buddhism, Hinduism, Islam, Portugal, Holland, England and Indochine français. Inspired by 7 months in SE Asia (Bali, Malaysia, Thailand, Vietnam, and Cambodia).