Paintings: 1 . 2 . 3 . 4 . 5
Photography: 1
Sound: 1
Sculpture: 1

Shown by appt
contact/subscribe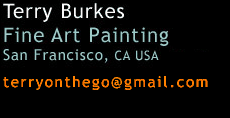 Watercolor & Gouache Paintings...
Painting with watercolor and gouache, is like canoeing a quiet stream, skiing powder-soft slopes, or surfing smooth waves. Water will always do what it wants. You must watch closely, adapt, embrace the surprises, and literally "go with the flow". It's all about timing, and knowing when to be patient and when to go for broke! Being in the zone, is one of the joys of this medium!

Most of my watercolors quietly contemplate the ethereal nature of memory, waking dreams, and random fleeting moments of beauty. Water "stains" remind me of preciouse old photographs, add an intimate quality and question what we hold dear and want to possess.

Stylistically, they gently span: impressionism, expressionism, abstraction, and magical realism.