Sound Design - Narrative (story line)


Explore Your World! (Travel Banner ad) - Using my field recordings from Cambodia, for Cultureswim.com



TV Crime Drama

Background Loops (websites)

Darwinian's Joke - light hearted exotic garden fantasy theme for Sunline Garden Design
Cat walk - V 1 - Contemporary exotic mid tempo
Flotsom - ethereal, meditative, innocent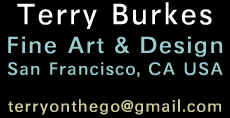 Sound Design

These music and soundscape loops, were created to evoke different moods and fit the personality of specific websites. Melodies were composed by me.


DETAILS: Most pieces contain several highly customized tracks, utilizing either my own field recordings of environmental sounds, or copyright free sound clips.
For warmth and grounding, I often chose a lot of traditional sounding instruments from around the world. I also incorporate jungle and weather sounds, as well as subtle syth textures.
Terry Burkes © 2006 - 2007