Paintings: 1 . 2 . 3 . 4 . 5
Photography: 1
Sound: 1
Sculpture: 1

Shown by appt
contact/subscribe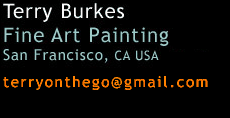 Encaustic Paintings...
(mostly 20" on the longest side, unless noted otherwise)...
"What You Don't See" Series 2006-7
Like travel, this subtly playful series gently engages, disorients, perplexes and hopefully rewards the visitor who takes the time to look. These psychological and metaphoric landscapes were inspired by my deeply enriching travels in SE Asia, and a lifetime of living as someone influenced by both Eastern and Western cultures. Despite, or because of, the tumult of history, much of SE Asia is graced with the beauty of some combination of nature, Buddhism, Hinduism, Islam, Portugal, Holland, England and Indochine français.
What might look like a classic landscape at first, eventually departs from reality. Purposely ambiguous imagery, odd contexts, reflections of temples and other objects with no physical source, shifting perspectives, inventive scale, and layering, are often employed to toy with the viewer and echo the slow non linear nature of understanding a new culture and it's collective memory and imagination. I hope they visually please, yet elicit an internal journey that challenges the nature of our own assumptions and limited perceptions.